UPVC Steel Support Profiles Shipped!
MODSTEEL supplied galvanized steel support profiles for UPVC doors and windows to Egypt. We supplied the products manufactured in our factory to our customers in the fastest deadline. DX51 + Z (1st quality) galvanized coils were used in this order. We produce from prime quality galvanized coils imported from Europe and domestic mills.
Secondly, We can produce U profile, C profile, G profile, Box steel support profiles. We produce PVC steel support frame from 0.6mm to 2.5mm in our Istanbul workshop. Reinforcement steel profiles are use in PVC doors and windows to eliminate the weak brittleness and strength problems of plastic.
Additionally, we can produce 2nd quality and softer sheets according to customer demand such as DX52, DX53 for more economical solutions. On the other hand; galvanized discharge, color differences, occasional surface oxidation, point damage or stains may be seen in some areas in 2nd quality products, .
However, we do not use ungalvanized sheet or deformed sheet or low galvanized thickness in any of our products.
In addition, we can optimize the length for transportation and lifting issues, we also have the ability to cut or slit in metalworking. In this project, we supplied the profiles as net 5800 mm. All profiles packaged in bundles and sent to our customers as proper load.
Also all product packages labelled during the product loading. Data such as quality, quantity, weight and size can be easily tracked on these labels. We usually load in packs of 12 and large bales of 10. We ensure about the products shipped correctly with minimum risk with the certified lashing service. MODSTEEL team is at your service to reach professional service quality wıth competitive prices.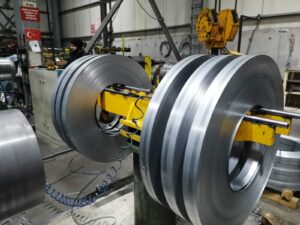 In addition, MODSTEEL supplies IPE, UPN, HEB, HEA and similar profiles as a steel service supplier. We also have flat steel and coils available in galvanized or black steel. With our stock capacity and fast production facilities, we offer competitive prices to our customers with short deadlines.
For more details, please see our website and online catalogue.