M
O

DSTEEL Worked for Kanuni Drill Ship Project !
We were proud to take part in the Kanuni Drilling Ship Project. MODSTEEL supported the office container needs. Our company produces all kinds of camp, office, living containers according to standard or special dimensions and customer requests.
Additionally we use Polyurethane Sandwich Panel, Rock Wool Sandwich Panel or Mineral Wool Sandwich Panel as insulation.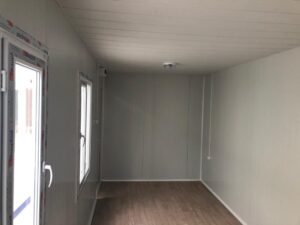 If you wish, we can also supply A / C split air conditioners. We use LED type luminaires for lighting.
The main frame system of office containers consists of profiles obtained by special bending from 2 mm galvanized sheet for the corner, ceiling and floor. So that the container can be lifted in one piece and placed on top of each other in three floors. If the container is in standard dimensions, its outer height is 2.60 m, and its inner height is 2.40 m.
MODSTEEL specializes in living containers, equipment containers, E-House manufacturing and telecom containers. We offer our customers the best modular solutions with our strong engineering team.
One of the main reasons why containers are preferred as an ideal modular building unit is their robustness, low costs and fast delivery times. Containers can be supplied very economically and can be easily mass produced as an industrial, strong and durable item.
MODSTEEL also manufactures flatpack type modules to reduce shipping costs. We can provide turnkey solutions, including assembly work, or support your projects with our experienced supervisors to manage assembly work.
Flatpack containers have a very affordable price advantage due to their low shipping costs. All these details should be considered at the procurement stage.
In addition, we support our customers in choosing the most suitable building type such as flatpack containers, ready-made containers, light steel structure, foam concrete structures, steel structure or container combination structures in their projects. We evaluate all the details and offer our customers the best option.
On the other hand our office container solutions, we also address your wet area problems as MODSTEEL. We use GRP coating from time to time in wet area solutions. We guarantee 100% impermeability in such applications. Please contact us in order to meet your office container, WC & Shower container needs with the most affordable costs.